Phones and Culture
... "[Telephone subscribers] employ the call-wire for abusing the operators, frequently using very violent and brutal language to them, so much so that at times they drive them into hysterics." No one can condone the use of violent and abusive language to young ladies, even if they be telephone girls.

—Financial Times, 31 March 1898, in an article quoting the National Telephone Company about service issues
| | |
| --- | --- |
| | Telephones are so engrained in our lives, most of us can hardly imagine living without them. This page shows you some of the interesting ways telephones have influenced our culture. |
Spelling by Numbers
One fun thing phones have given us is an obsession for designer phone numbers that spell something. In some cases this seems to be more important than the real purpose of having a phone number — to receive calls. Take for example, 800-4WATERBEDS. After the caller dials 1-800-4WATERB the call will connect. My guess is their receptionists are quite used to listening to people trying to dial the "EDS" after they have already answered the phone.

Here are some programs I wrote that allow you to see if your phone number spells anything interesting. There are two varieties. SPELL.EXE (7k) is a DOS program, WINSPELL.EXE (72k) is a Windows program. The programs take a 7-digit telephone number and list all the corresponding letter combinations. Sorry, there is no dictionary to help you decide which combinations contain valid words, so you have to scan the output yourself (besides, deviant spellings are part of what makes up the personality of many designer phone numbers, e.g. 800-KARS-YES). SPELL for DOS has an option to print the list for easier reading or save it to a file. The WINSPELL program goes to screen only. These programs were written by me in the days when I had spare time. WINSPELL was the first Windows application I ever wrote1.
Movies centered around phones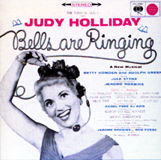 One of my favorite movies of all times is Bells Are Ringing, about a young girl who works at an answering service and learns a thing or two about the world. She also falls in love with one of the answering service's clients in the process. I can tell you from experience that fraternization with clients is very common in the answering service industry (I've done it; all my answering service friends have done it). This film is a musical with telephones featured prominently as they are vital to the overall plot.
The President's Analyst is an intriguing story in which The Phone Company (TPC) plays a crucial role.
BUtterfield 8 stars a young Elizabeth Taylor in this 1960 adaptation of John O'Hara's novel. A sophisticated call girl ("Just call BUtterfield 8") wanting to go straight forces herself to fall in love.
Telephone Music
Over the years I have collected a large amount of music, mostly popular, about the telephone. Here is a list of what I have and what I'm still looking for.
My collection starts with songs I have put together onto tapes.
Telephonics
This tape is so named because it was created on the Personics system. The way it worked is there was a printed list of all available music and sounds from which you could make selections to be mastered onto a cassette tape. I scoured the list for anything relating to telephones. The employee at the music store who punched in my selections for my tape to be made said she had no idea there were this many songs about telephones out there.
Track
Artist
Side 1
Rotary Dialing and Ringing from Headset
(Sound Effect)
BEachwood 4-5789
The Marvelettes
Call Me (Theme from American Gigolo)
Blondie
Telefone (Long Distance Love Affair)
Sheena Easton
Love on the Phone
Suzanne Fellini
Call Me [note: different from the one above; kind of a bluesy R&B tune]
Aretha Franklin
Can I Call You
David Gates
Side 2
Call Me [note: different again]
Go West
Call Me (Come Back Home)
Al Green
American Telephone Ringing
(Sound Effect)
(619) 239-KING
Mojo Nixon & Skid Roper
634-5789
Wilson Pickett
European Telephone Ringing
(Sound Effect)
Hot Line
The Sylvers
Telephone
This tape is a collection of music I put together myself, most with a telephone theme in the title. Where the title isn't very obviously telephone related, I have supplied some relevant lyrics which link the song to the telephone. My friends were kind enough to indulge me when I asked to borrow this or that album so I could record a telephone track onto my tape.
Track
Relevant Lyric
Artist
Side 1
The Telephone Call
Kraftwerk
Telecommunication
A Flock of Seagulls
Hanging on the Telephone
Blondie
634-5789
Johnny Van Zant
867-5309/Jenny
Tommy Tutone
6060-842
The B-52's
Operator
Jim Croce
853-5937
Squeeze
Side 2
My Telephone
Coldcut
Calling Out to Carol
on a telephone call. Message on a wire coming through the wall.
Stan Ridgway
Telephone Line
Electric Light Orchestra
Love on the Telephone
Foreigner
The Answering Machine
Rupert Holmes
Telephone Operator
Pete Shelley
Bad Connection
Can you hear me at all? Gotta get the operator, make a telephone call.
Yaz
Why Haven't I Heard from You
Well back in 1876 an old boy named Bell invented a contraption that we know so well. By the 1950s they're in everybody's home. It's a crazy little thing they call the telephone. Now there's one in every corner, in the back of every bar. You can get one in your briefcase, on a plane, or in a car. So tell me...
Well there's no problem gettin' to me, Baby you can dial direct. I got call forwarding, call waiting, you can even call collect. The serviceman, he told me that my phone was workin' fine, and I have come to the conclusion trouble isn't with my line. I'm sure the operator would be glad to put you through, so dial 0 for assistance if this all confuses you. So tell me...
Reba McIntire
Phone Chords
Chords as in music. Get it? This collection is still in the works. Below are its current contents.
Track
Relevant Lyric
Artist
Side 1
Phonefreak Honey
Sweet Jesus
Don't Ring Me Up
Protex
Somebody to Shove
Grandfather watches the grandfather clock, and the phone hasn't rang [sic] for so long.
I'm waiting by the phone. Waiting for you to call me up and tell me I'm not alone.
Hello? Speak up. Is there somebody there? These hang-ups are getting me down.
Soul Asylum
Star 69
[note: *69, sometimes called call return, is dialed to ring back the last person who called]
I know you called — star 69.
R.E.M.
Personal Jesus (Telephone Stomp Mix)
[about salvation through dial-a-prayer; includes many telephone noises]
Flesh and blood by the telephone. Lift up the receiver, I'll make you a believer. Reach out and touch faith!
Depeche Mode
Memphis Tennessee
Long distance information, give me Memphis Tennessee. Help me find a party trying to get in touch with me.
Information, please try to put me through to her in Memphis Tennessee.
Silicon Teens
Dial My Heart
The Boys
Telephone
Style
Call Me [note: different than all the others]
Ferrin
Spiderwebs
Sorry I'm not home right now, I'm walking into spiderwebs. Leave a message and I'll call you back.
It's all your fault I have to screen my phone calls. No matter who calls I have to screen my phone calls.
No Doubt
Other music
I have located and accumulated a few other bits of telephone music that have not yet been compiled into a collection (it's somewhere near the bottom of my list of things to do). They are:
It's a Perfect Relationship from Bells are Ringing (original Broadway cast) PLaza-0 double-4 double-3... It's a perfect relationship, I can't see him, he can't see me.
Call Me 'Mr' Telephone by Cheyne
He's on the Phone by Saint Etienne
Music I don't yet have
It's pretty easy to find almost anything in the age of information, but I don't work full time at it, so there are still a few tracks on my list. They are:
PEnnsylvania 6-5000 [note: this was and still is the phone number for New York's Hotel Pennsylvania]
Call Me [different again] by Skyy
Telephonic Art
Carlos Podestá creates themed works of art that are working telephones. Visit Podestá Telephonic Art to see these one-of-a-kind phones!
Is there anything you know of that I'm missing? If so, please let me know.